Chemist Transitions to Career in Regulatory Affairs with Help of SDSU Master's Degree
By Suzana Norberg March 16, 2018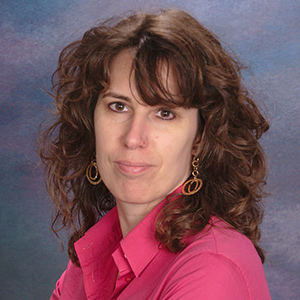 Educated in Europe — Germany, the UK, and Switzerland — Nicole Hilgraf came to the United States in 2001 with a Ph.D. in chemistry to conduct post-doctoral studies at the Scripps Research Institute in La Jolla.
"San Diego was one of the fastest growing biotech hubs at that time, and I decided to stay and joined Vertex Pharmaceuticals as a medicinal chemist," said Hilgraf. "During my 12-year tenure as a scientist at Vertex, I learned a lot about small-molecule drug discovery and was fortunate to see compounds advance from the original screening hit all the way to drug approval (Kalydeco and Orkambi for cystic fibrosis, and Telaprevir for HCV). I also learned how to successfully manage and lead chemistry teams and how to efficiently work within multidisciplinary team environments."
By 2014, she wanted to become more involved in the later-stage drug development process, but transferring within Vertex wasn't an option, since the San Diego site is involved only in drug discovery.
"I was attracted to regulatory affairs, as this discipline brings together all aspects of drug development, requiring both scientific and regulatory understanding," said Hilgraf. "Since I did not have much regulatory expertise yet, I decided to become a full-time student again to help fill this gap."
Only a few weeks after taking her final class in SDSU's fully online Master of Science in Regulatory Affairs program, Hilgraf landed a management-level job in the industry. She answered a few questions about her journey.
How did SDSU's Master of Science in RA program meet your expectations/objectives?
My main goal for entering this program was to obtain a sound theoretical foundation of the many diverse areas within regulatory affairs. I believed that a Master of Science degree in RA would help open the door for my career transition into this field. In addition, I felt confident that a strong theoretical foundation would also be a catalyst for an accelerated career path in RA after starting my first job in RA.
This program has met, and even exceeded my expectations: I was able to find my first job in RA only a few weeks after taking my final class at SDSU. Somewhat ironically, I re-joined Vertex Pharmaceuticals at its headquarters in Boston, as my family and I had re-located there a year before my graduation. Due to my strong educational background in RA, Vertex hired me at the manager level, and I feel that this program has prepared me well for my job responsibilities.
How did you find out about SDSU's program and what was the deciding factor in choosing it?
Before leaving my position as a scientist at Vertex, I spent about a year carefully considering and weighing my options. I reached out to people within my professional network to get connected with RA professionals, and I had many conversations. One organization that stood out for me in this process was the San Diego Regulatory Affairs Network (SDRAN) which offers a six-month mentoring program for people interested to learn more about RA.
Through that program, I connected with both an instructor and two alumni of the SDSU RA master's program. In discussions with them, I heard about how well this program was designed, and how it was much more detailed and also demanding than other programs offered elsewhere. Initially, I had only planned to obtain the Advanced Certificate in RA from SDSU — but after only taking the first two classes, I had already changed my mind to enter the MS program, as I truly enjoyed the classes and realized their long-term benefits for my second career in RA.
What do you think are the program's key strengths?
In my opinion, this program has two key strengths: the broad coverage of the many aspects of regulatory affairs, and excellent instructors who are working professionals in this field. With regard to the broad coverage, I feel that this program is well designed with classes covering the many different fields within RA, and also going beyond into relevant neighboring fields (e.g. clinical or ethical considerations). And the breadth of this program does not mean that it sacrifices depth; in contrast, I was positively surprised how deep and detailed we went into subject matter in each class. The second key strength of this program is the fact that RA working professionals are teaching these classes. I liked the many case studies, mock regulatory submissions, and regulatory hot topic discussions in all of my classes. In addition, instructors were always accessible by e-mail and would always respond within one day if I had any questions.
As a working professional, was the online component a critical feature?
I was one of the few non-working professionals in this program since I had decided to become a full-time student again for two reasons: I wanted to complete my MS degree in the shortest time possible, and I also wanted to have the least impact on having enough quality time with my family, especially with my young daughter. The online nature of this program was ideal for my family and me, as I was completely flexible in my time management. In addition, after my family and I relocated to Boston somewhat unexpectedly two-thirds into my program, I appreciated it even more that I could continue my studies from the East Coast without any problems or delays.
How much interaction did you have with fellow students, and are there networking aspects to the program?
Even though this program is fully online, there are many interactions with fellow students through discussion boards and team projects. I would have classes together with some students repeatedly, so we formed a sense of comradery. I even formed a friendship with one of my fellow students from my first two classes, and we recently had lunch together here in Boston even though he still lives in California. When I was starting to look for a job in Boston, I reached out to my graduate advisor, Dr. Lorah Bodie, and she connected me with a few local alumni who offered advice and help during my first job search.
What was your thesis project?
As a chemist, I am intrigued and very supportive of the FDA's Quality by Design initiative which was started about a decade ago. With this initiative, the FDA is hoping to motivate pharmaceutical manufacturers to build quality into their products from the start throughout the whole manufacturing process, and not just trying to ensure product quality by testing at the end of the process. In my thesis, I was looking at the response of industry to a new initiative from the FDA in which the agency proposed that pharmaceutical manufacturers should submit quality metrics — an indicator of the health of a manufacturing quality system — on a regular basis. Responses from industry and other stakeholders were collected in the Federal Register, and I summarized, analyzed and discussed these responses in my thesis. Overall, responses were quite diverse and controversial, and I enjoyed closely following this real-time interaction and shaping of potentially new regulatory requirements between stakeholders and the FDA.
What did you want to be when you grew up?
I was always fascinated by science and was very determined to become a medical doctor as a child. When I had a choice between taking French or Latin in middle school, the choice was very easy for me as you needed to have had at least three years of Latin classes to enter medical school in Germany. However, in high school I got more attracted to chemistry and biochemistry and ended up studying chemistry instead. Working in a pharmaceutical company closed the loop back to my initial dream of being a medical doctor — although in a different way than I had initially thought.
Anything you'd like to add?
I started my first job in regulatory affairs nine months ago as a regulatory CMC manager at Vertex Pharmaceuticals here in Boston. Over these few months, I have had the opportunity to support one NDA filing and several clinical trial applications (CTAs) and CTA amendments for small molecule drugs. In addition, I had the privilege to be part of a team submitting one of the first CRISPR/Cas9 gene editing CTAs worldwide — a very exciting endeavor within a new, not yet clearly defined regulatory framework.
I am very happy that I took a bold step in 2014 to leave my scientific career and start a career transition into regulatory affairs. The MS program at SDSU was instrumental in helping me realize this successful transition!